In stock
Monster Superstar S300 Bluetooth Speaker
385,000.00 UGX
Monster Superstar S300, Wired & Wireless, 10 m, Black, Splash proof, IPX7, Universal
PREMIUM PERSONAL WIRELESS BLUETOOTH SPEAKER & SPEAKERPHONE
The Monster SuperStar is the smarter portable Bluetooth music speaker and speakerphone. With incredible sound that fills the room which is clean, articulate and transparent. When paired with your smartphone, it brings crystal clear calls to a whole new level. Monster SuperStar portable Bluetooth speaker – Pure Monster Sound in the palm of your hand.
Because the music matters.
MEET THE SUPERSTAR SERIES
Dont let its size fool you. Despite an ultra-portable look, SuperStar pumps out sound that is bigger than bigits heroic. That means expansive Pure Monster Sound with crazy deep bass at max volume levels without distortion. Pro-grade construction and a fully waterproof rating (IPX7) makes SuperStar fit for any extreme environment. Grab one and go!
MULTIPLE SPEAKER CONFIGURATIONS
Depending on the SuperStar model, there are multiple configurations to choose from to help deliver a bigger and rounder sound the higher you step up into the SuperStar family
S300: 4 Speaker Configuration – Full-Range Driver (x2) & Passive Bass Radiators (x2)
MONSTER V-SOUND
All models deliver the unique listening experience of Pure Monster Sound wirelesslywith tight and deep bass and powerful dynamics for the ultimate in emotional impact. The amazingly full, rich sound, with astounding deep and bass, is made possible by Monsters innovative design and technology that features a V-shaped angled cabinet with drivers on both sides that project on either side of the speaker. This creates direct and reflective sound that comes towards you and bounces off the wall to create a completely immersive experience that Monster calls V-Sound. For additional bass response, the S300 & S400 features dual bass radiators, while the S200 and S100 feature a single bass radiator.
WATERPROOF & FLOATS
The SuperStar family is rated as IPX7, which is the highest waterproof category meaning you can fully submerge it and keep it for a long period in water. However, who wants to listen to a speaker that is submerged! The Monster SuperStar floats on the water, so if you ever happen to drop the speaker into water, it will not sink and it will continue to play! It also means it is fully suitable for outdoor use, rain or shine.
SUPERIOR QUALITY SPEAKERPHONE
The SuperStar is not just a speaker, you can also take calls and use them as a speakerphone. There is an active echo noise cancellation built in so the calls are crisp and clear as it minimizes the background noise.
MONSTERTALK VOICE CONTROL POWERED BY MELODY APP
For the ultimate in hands-free convenience, new SuperStar Series models are MonsterTalk voice-controlled speakers with Speak Musics voice-powered AI music assistant, Melody, accessible via just a single button tap. With Melody, you can literally tell your SuperStar speaker what music to play, ask for a particular song, artist, genre or playlist and much more enjoying a truly hands-free listening and control experience. You can also tell your speaker to access iHeartRadio, Spotify Premium, Tidal (including support for Tidal HiFi, Tidals lossless CD quality service), NPR news briefs, as well as iTunes local music.
MONSTER MUSICSHARE
With the S200 and S300 models, you can pair 2 devices together wirelessly to create a larger soundstage. In addition you can choose to make one speaker the Left and one speaker the Right for a stereo sound, or a combination of Left & Right in each speaker using your smartphone/tablet.
– 4 Speaker Configuration Delivers Sensational Monster V-Sound
– Full-Range Driver (x2) and Passive Bass Radiators (x2)
– Fully Water, Weather, and Splash-Proof (Rated IPX7)
– 15+ Hours of Continuous Playtime
– Recharge Your Phone With Built-In PowerBank
– Enough Juice to Charge Up To 2 Devices Simultaneously
– Superior Speakerphone with Echo Cancellation
– MonsterTalk Voice Control Powered by Melody App
– Connect 2 speakers with wireless MusicShare
– USB Direct For Full Digital Audio Performance
– Quick Convenient Pairing with NFC Compatibility
– Heavy Duty Durable Cabinet
– Includes Convenient Carry Strap
SHIPPING
Complimentary ground shipping within 1 to 7 business days
In-store collection available within 1 to 7 business days
Next-day and Express delivery options also available
Purchases are delivered in an orange box tied with a Bolduc ribbon, with the exception of certain items
See the delivery FAQs for details on shipping methods, costs and delivery times
RETURNS AND EXCHANGES
Easy and complimentary, within 14 days
See conditions and procedure in our return FAQs
Description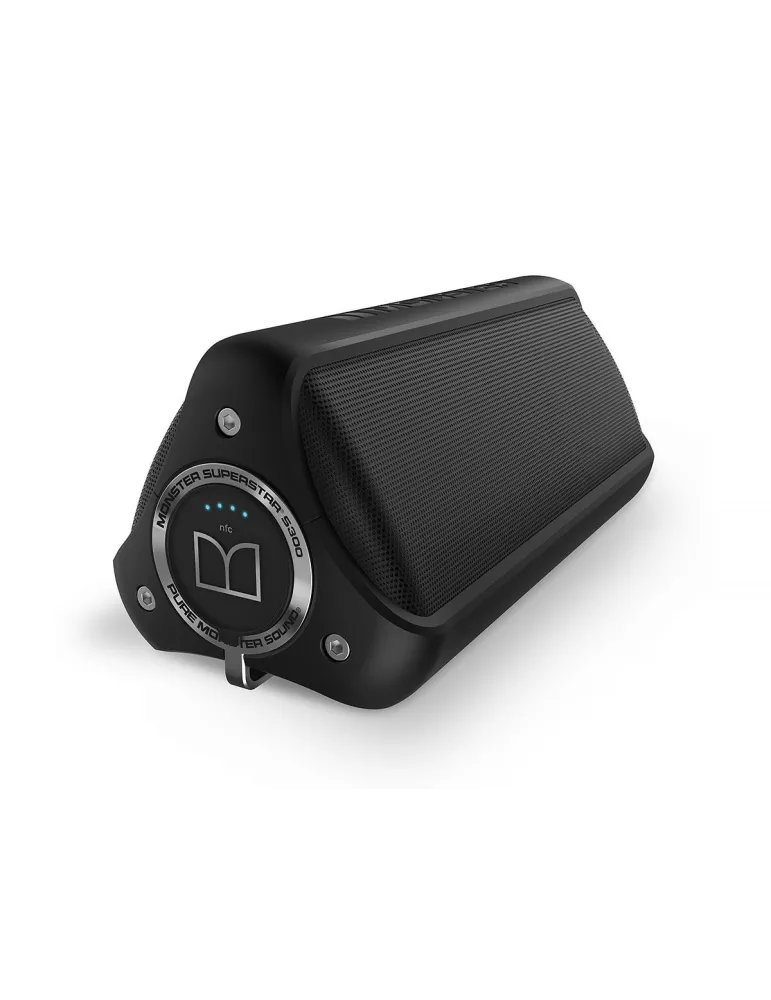 Reviews (0)
Only logged in customers who have purchased this product may leave a review.
Related products
Sale!

New

Quick view

Rated 0 out of 5

1,845,000.00

UGX
Monster Superstar S300 Bluetooth Speaker
385,000.00 UGX
Add to cart
Start a Conversation
Hi! Click one of our member below to chat on Whatsapp
The team typically replies in a few minutes.